Josh Forti Personal Branding Example
In today's personal brand example, we take a look at Josh Forti, an Entrepreneur and Podcast Host. If you're interested in learning more about personal branding, check out our guide.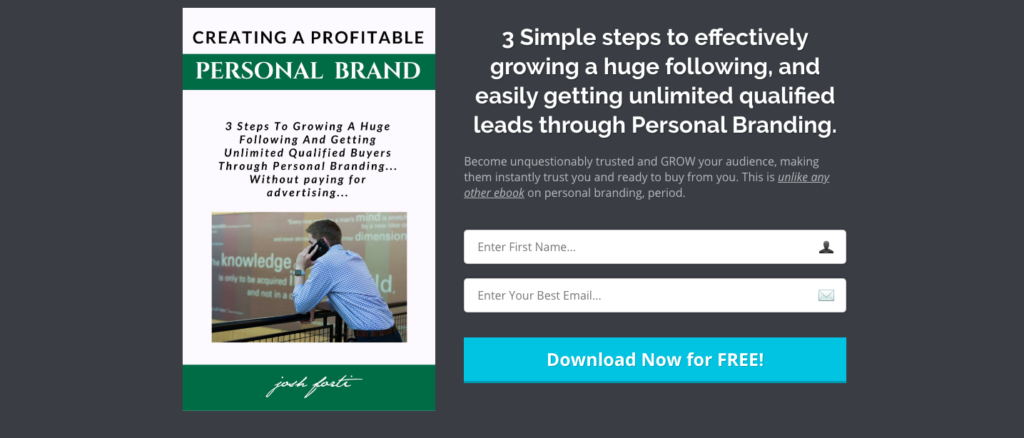 Example: Personal Brand Logo
The personal brand logo used by Forti is simple and elegant. He includes his first and last name, not just his initials, so that he can be easily identified. His name is written in lowercase, cursive font, which gives it a very chic and polished look. Forti's first and last name is written in white, with a green background behind it, so that the words are easy to read and distinguish.

Personal Branding Tip: To create a memorable personal brand logo, it is important to make sure your name is easy to identify and will set you apart from others.
Example: Personal Brand Statement
Josh Forti does not have a specific personal brand statement. He does include his why, which is " to inspire people to break free and find their purpose, know truth, and define their own destiny, so they fall in love with life and make the world a better place."
Example: Personal Brand Tagline
Josh Forti does not have a personal brand tagline, per se. However, he does use this statement to describe what he does: "The Secrets Of Turning "You" Into A Six Figure Personal Brand." He also uses this statement to describe what he does: "Creating The Future Of Social Media Growth And Profitable Audience Creation."
Example: Personal Brand Story
Forti's personal brand story is included in the About Me tab on his Think Different Theory website, as shown by the link below. In his story, he explains how at a young age he realized that he was different from the norm, and that he aspires to have an exciting life.
He started his own company at 19, and continued to grow his personal empire from there. He went through tough times and struggles, went bankrupt, moved back in with his parents, and needed help and guidance along the way. He says how changing his perspective and thinking differently allowed him to be more successful, and to get back on his feet after hardships.
Through his experience with sales, networking, and meeting many financially lucrative people, he was able to figure out what the true meaning of business success is – mindset.
By explaining the ups and downs he faced throughout his life, as well as by being honest with his feelings and experiences, he creates a more credible and personal version of himself that his audience feels they can trust and relate to. It also demonstrates to his viewers that what he claims in his podcast and book works, because he is a real-life example.
https://thinkdifferenttheory.com/about-josh-forti/
Example: Personal Branding Website
Forti uses https://thinkdifferenttheory.com and https://www.joshforti.com as his personally branded websites. On his websites he includes information about the steps he took to grow his own personal brand, and what knowledge and insight he can give his audience about how they can grow their own brand themselves.
He also lists some of his accomplishments, such as being featured in the Huffington Post and Buzzfeed, as well as a lot of information about his podcast and book that is available for download through the website.
In addition, he includes an About Me tab on this website, where he tells his own success story, starting from his teenage years up until now. Giving his personal story and explaining his former struggles that he overcame makes him more engaging and relatable to his audience, and more trustworthy as well.
Personal Branding Tip: Be specific and straightforward with the accomplishments you list on your platforms, especially those that directly correlate with your personal brand. This gives credit to your success, and shows how you can help your clients succeed as well.
Example: Personal Branding for Social Media
Next, let's take a look at how Josh Forti has personally branded his social media profiles.
Facebook
Forti's Facebook profile includes straightforward information and graphics on what he has to offer with his personal branding. His profile picture is a casual headshot, which puts a face to the name easily.
His header picture includes two different pictures, where you have to click the arrow on the right side of the first image to get to the second one. The first picture has the name of his podcast, The Think Different Theory, and the platforms where you can subscribe to the podcast. It also includes a picture of half of his face on the right side, as well as an inspirational quote of his on the bottom.
The second header picture incorporates the same picture of half of his face on the right side, as well as information about his book, Mindshift Playbook.
Forti did a great job of promoting himself and what he has to offer, such as his podcast and book, while also explaining exactly how to get easy access to both of them.



Twitter
Forti's Twitter profile is a little more personal than his other social media platforms.
His profile picture is one of him in action while speaking at an event, which is more candid than a typical headshot. His header picture is of him facing away from the camera while wearing a hat backward, with a plain blue background.
His bio includes the topics he focuses his life and his work on, which are politics, entrepreneurship, and a little religion.
YouTube
Forti's YouTube profile is unfortunately not very active, but he does still portray his personal branding on this social media platform.
His profile picture is again a casual headshot, that is still professional, allowing his audience to put a face to the name. His header picture includes a mix of different snapshots, including him speaking at events, as well as him traveling to different locations.
He also has text on the bottom of these pictures describing him, stating that he is a world travel vlogger, a free thinker, and an entrepreneur. It also includes text that says where to subscribe to his YouTube channel, with an arrow pointing to the subscribe button on the platform.


Instagram
Forti's Instagram profile provides an uncomplicated and straightforward way to understand who he is and what he does.
His profile picture is a casual headshot again, with informal attire and a laid-back pose, which properly links with his young age. His bio lists information about his accomplishments, as well as topics that he is interested in.
He states that he hosts the most thought-provoking podcast in the world, that he is 100% American, and also his preferred themes which are politics, entrepreneurship, and a little religion. This provides insight into what he discusses in his podcast, and what type of content he puts online and on his social media platforms as a whole.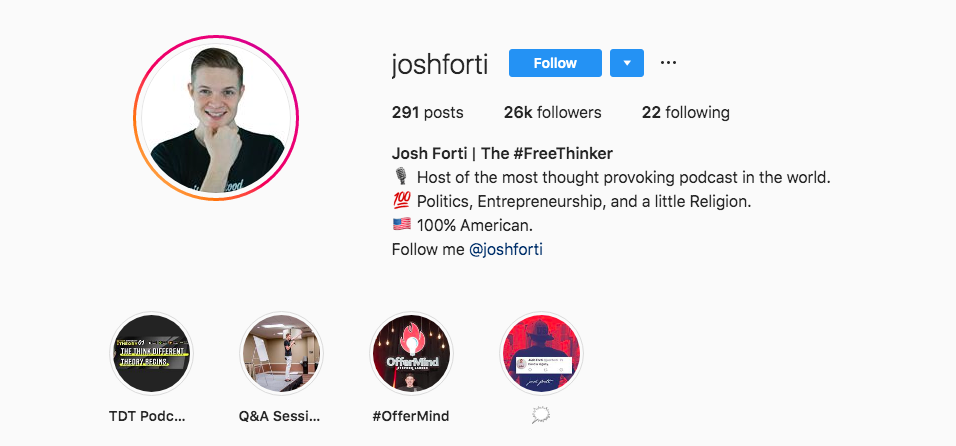 Personal Branding with Books
Josh Forti published a book called the Mindshift Playbook. This book includes step-by-step advice and information as well as video training that he has created to help his audience improve their lives. You can sign up to gain access to his book on his website, as well as on his social media platforms.
Personal Branding Tip: If you publish a book to aid your personal branding, it is important to mention your book throughout your website and social media platforms with a link included so that your audience has easy access to it.
See something interesting or have something to share? Consider joining our Facebook group and sharing it with other business owners and professionals like yourself.

Is there someone's personal branding you'd like us to take a look at? Drop us a note here to let us know.